Internet/email scams are becoming more numerous and more sophisticated.
Protect yourself from scams – read this..
The most common scams around at the moment include:
Facebook scam
You receive a spam email , claiming to be from Facebook, advising that the your Facebook account has been "deactivated" or because of an upgrade to Facebook you need to change your details.
Ukash Virus Scam
Your machine starts up with a warning from the federal police and a demand that you pay money via a link.  Read more…
Microsoft PhoneScam
You receive a phone call from someone purporting to be calling on behalf of Microsoft Serices or a company appointed by Microsoft because you have viruses or problems that have been reported back to Microsoft.  Read more …..
Bank Details Scam
You receive an email supposedly from your bank or one you don't even bank with.  Apparently they are running maintenance, your account has been locked or some other problem has occurred.  To fix it you just click on the link provided and enter in your username and password which takes you to a site that looks very much like the bank site.  Bingo the scammers now have open access to your bank account.  See an example email and another here.
Email Account Problem Scam
You receive an email supposedly from your internet host or a webmail hosting centre indicating that there are problems with your email account. or that they are updating their database and deleting the account of all users who do not repsond to their email within 24/48 hours.  All you need to do is reply including your username and password.   See a sample email.
Lotto Scam
Didn't know you had been entered in to an overseas Lotto did you.  Well you have and guess what – you just one a large sum of money.  Just provide the scammers with certain details and they wil expedite transfer of the funds.  Unfortunately they usually transfer them out of your account or require some sort of payment to facilitate the process.  Read more …
---
The Microsoft phone scam has left some victims hundreds of dollars out of pocket.
Scammers are using several well-known brands, including Microsoft, to fool people into believing that something is wrong with their computers. The scam typically unfolds in the following manner:
A cold caller, claiming to be a representative of Microsoft, one of its brands or a third party contracted by Microsoft, tells the victim they are checking into a computer problem, infection or virus that has been detected by Microsoft.

They tell the victim they can help and direct them to a website that then allows the scammers to take remote control of the computer.

The cold caller will then spend some time on the computer trying to demonstrate where the 'problems' are and in the process convinces the victim to pay a fee for a service that will fix the computer.
"In reality, there is nothing wrong with their computer but the scammer has tricked the consumer into believing there is a problem and that paying the fee is the best way to get it fixed. Often they will also push the customer to buy a one year computer maintenance subscription. They are just trying to scam innocent Australians out of money," said Stuart Strathdee, Microsoft Australia's chief security advisor.
Strathdee also said that the callers presented themselves in a professional manner and sounded genuine.
"Don't be fooled, Microsoft is not cold calling consumers in regards to malfunctioning PCs, viruses or any other matter," he said.
"We strongly advise Australians to simply hang up if they receive a call of this nature and not to respond to any communications from these scammers.
If you're not sure, contact Microsoft on 13 20 58 or the Police,.
---
Account Locked !
Dear BOQ Member,
Due to the number of incorrect login attempts, your BOQ Account has been locked for your security. This has been done to secure your accounts and to protect your private information in case the login attempts were not done by you..
At BOQ Bank we care about your security so, for your protection we are proactively notifying you of this activity.
If you did not trigger this lockout, follow this link to Log on to your BOQ Online Account :
Click here to unlock your account
Thank you for your prompt attention to this matter.
We apologize for any inconvenience.
Thank you for using Bank of Queensland Limited!
Bank of Queensland Limited ABN 32 009 656 740, AFSL and ACL No 244616
SECURITY ALERT
National Australia Bank [info@nab.com.au]
---
Dear Customer,
It has come to our notice that your account profile has not been validate since we upgraded our server.
To avoid account suspension, kindly log on to our website below to validate your profile.
www.nab.com.au (NOTE: This takes you to the scammers info collection site)
We are sorry for any inconveniency this may cause.
Thanks for choosing us.
---
Urgent : Verify Your Email Account Maintenance/Update
Email Account Maintenance/Update [c.care_web@pkuit.com]
Dear Account Owner,
This message is from webmail hosting messaging center to all our account owners. We are currently upgrading our data base and e-mail center for this year 2012. We are deleting all unused account to create more space for new one and to prevent spam mails. To prevent your account from closing you will have to update it below so that we will know that it's a present used account.
Warning!!! E-mail owner that refuses to update his or her Email,within 48hrs of receiving this warning will lose his or her E-mail permanently.
You are required to send us the below information via email below.
CONFIRM YOUR E-MAIL IDENTITY BELOW:
First Name:____________________________
Last Name:_____________________________
E-mail Username:________________________
E-mail Password:_______________________
Click on reply and send us the above details.
Warning!!!
In failure to verify your account within 48hrs on receiving this notification, your account will automatically be deactivated.
Thank you for using webmail Account.
Warning Code: QATO8B52AXV
Kind Regards,
Webmail Account Service Team Management.
Thanks for your co-operation.
Copyright @2012 WEBMAIL OFFICE All rights reserved.
---
Swiss Lotto Lucky Winner
Kenneth Gram [hr@ts-bank.cn]
SWISS LOTTO LONDON UK
AFFILIATED OFFICE U.K,
82 VICTORIA STREET
VICTORIA LONDON SW1 U.K
CONGRATULATIONS!!! YOU HAVE WON ?750,000 Pounds You have been awarded ?750,000 Pounds in the SWISS-LOTTO Satellite Software email Lottery in which e-mail addresses are picked randomly by Software powered by the Internet through the worldwide website, your email address was amongst those Chosen this year for the SWISS-LOTTO Satellite lottery. And this promotional program is proudly sponsored by the SWISS-LOTTO organization.
Your email address attached to Ref number 2, 3, 25, 27, 30, 37, 39 with Serial 2 and consequently won the lottery in the "A" Category. You have therefore been approved for a lump sum pay out of ?750,000 Pounds. Number 1979-12 drew the lucky Numbers 101979-12 drew the lucky Numbers please note that you are lucky winning number falls within our UK Booklet representative. In View of this, your winning prize will be released to you by our fiduciary agent located In our AFFILIATED OFFICE U.K .Our UK agent will immediately commence the process to facilitate the release of your winning funds as soon as you Contact them.
This promotion takes place annually. For security reasons, you are advised to keep your winning details confidential till your claims is processed and your Winning funds remitted to you in whatever manner you deem fit to Claim your prize. This is part of our precautionary measure to avoid double claiming and unwarranted abuse of this program by some unscrupulous elements.
To file for your claim, please contact our fiduciary agent:
Mr. David Barnet Bradley
Email: dmrbradley@rocketmail.com
Tel: +44-703-592-7031
Provide him with the informations as stated below:
(1) Name:
(2) Address:
(3) Marital:
(4) Age:
(5) Sex:
(6) Nationality:
(7) Country of Residence:
(8) Occupation:
(9) Telephone Number:
(10)Fax Number:
(11)Draw Number above:
These details facilitate the due process and the release of winnings to avoid Unnecessary delays and complications in the processing of your Winnings.
Congratulations once more from all members and staff of this program.
Sincerely,
Mr. Kenneth Gram
Online Games Director
SWISS LOTTO LONDON UK…
https://www.swisslotto.ch
---
Ukash ransomware virus spreading.
Ukash Virus is an aggressive group of ransomware scams that tries to swindle your money from you. It is a very convincing virus because it uses alerts presented as given by an official institution, e.g. local or country's police. It locks your computer completely therefore the only thing you can do is to see the message. If one wants to unlock the computer, the message advices to pay the fine. Of course, this is only a scam and paying the fine will not change anything.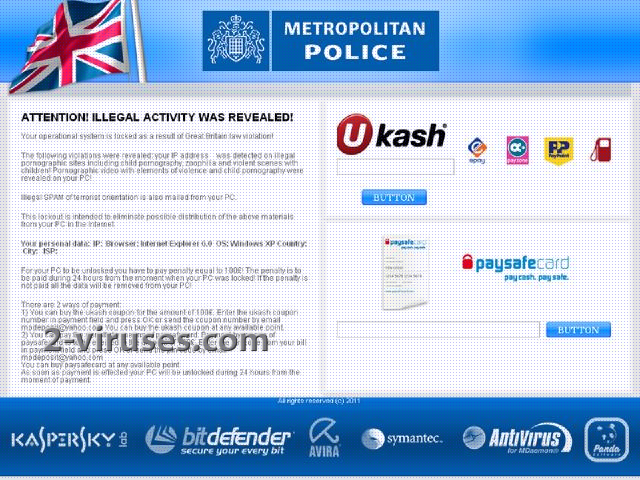 This ransomware is named Ukash Virus under the payment system it requires. The fines are paid using a pre-paid system called Ukash. None of official institutions would ask any payments via systems like Ukash therefore it only confirms that this is not a real warning but a virus used by scammers.
Ukash Virus gets into your PC through various security holes and vulnerabilities after visiting infected websites or downloading infected files. It might be distributed with a help of Trojan parasites too.
Important Note: Although it is possible to manually remove Ukash Virus (ransomware), such activity can permanently damage your system if any mistakes are made in the process, as advanced spyware parasites are able to automatically repair themselves if not completely removed. Thus, manual spyware removal is recommended for experienced users only, such as IT specialists or highly qualified system administrators.
Bring it in and we can remove it for you.
---
The email is NOT legitimate, and encourages users to click on included links, which lead to a malicious site loaded with the Blackhole Exploit Kit (a nasty threat that is very sophisticated and powerful, and can distribute Trojans and other forms of malware through the visiting computer). Information taken from AVG website.
The odd phrasing used in the email is a dead give-away: "You will then be able to exploit the site as before". We don't think the average user thinks they are "exploiting" Facebook when accessing the site!
Here's what appears when any of the links are clicked in the message; a familiar indication of Blackhole:
Naturally, we suggest simply deleting any email message you receive that appears to be suspicious. And if you do accidentally open one, never click on any of the links included, as these will more than likely lead to malware (as in this case) or a survey scam that will fill the pockets of a cybercriminal once completed.
---
Visit Government scamwatch website to be informed about all the latest scams.